Visual, Performing and Creative Arts Engagement Center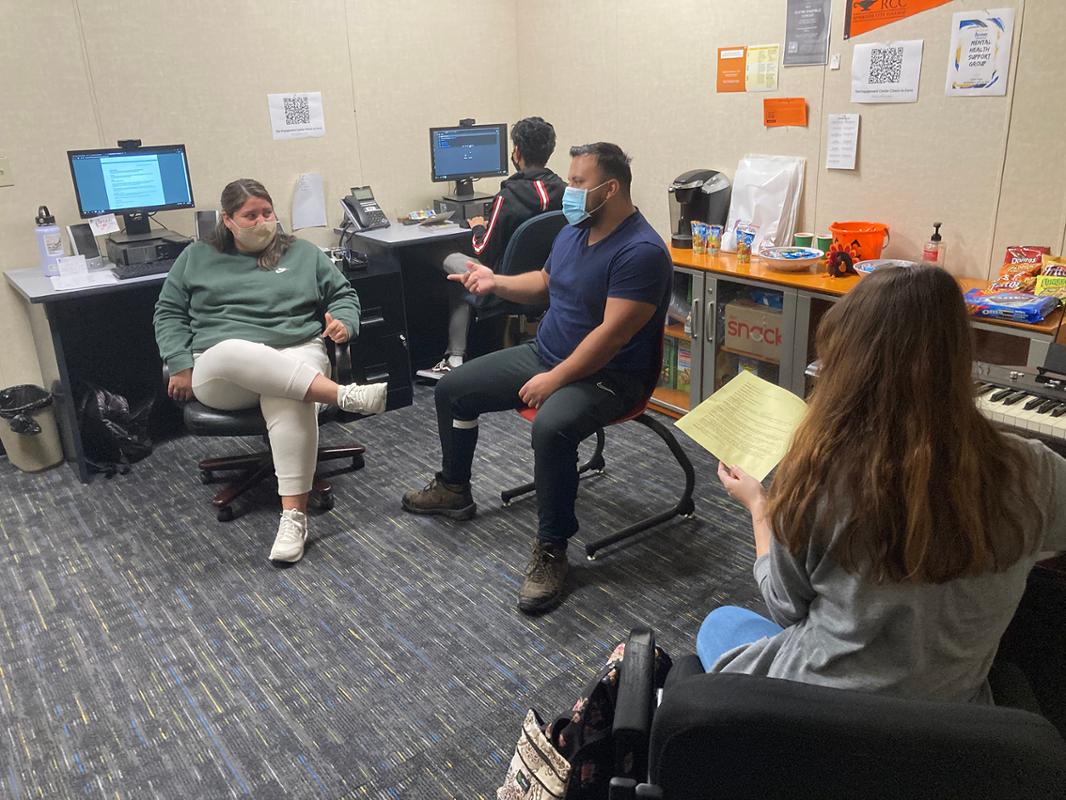 The Fine & Performing Arts Engagement Center services students with major areas of emphasis in Art, Dance, Music and Theatre. Your Engagement Center can connect you with your Educational Advisor, Peer Mentors, FPA Counselor, and faculty advisors. We are here to answer all of your questions regarding enrollment, registration, programs of study, grade options, transfer requirements, COVID-19 updates, and workshops and events on campus.
Contact Us
Phone: (951) 222-8752 or (951) 222-8753
Location: Stover 114
Note: Please, enter through the single black door across the street from Quad.
Peer Mentors In-Person Drop-in hours:

Monday - Thursday
9 am - 3 pm
Drop-in Counseling is available!
Drop-ins are offered on a first-come, first-serve basis and are intended to be for quick questions only (15 minutes max). You will be asked to wait in the Zoom waiting room until the counselor is available to call you in. Please be patient. Comprehensive Student Education Plans cannot be created during a drop-in. Please note: students must have their student ID numbers ready.
Your Engagment Center Resources
Our Online Engagement Center (on Canvas) – Students are highly-encouraged to self-enroll into our Online Fine & Performing Arts Engagement Center on Canvas. Our Online Center is a one-stop location for all FPA & RCC information, resources, important dates, workshops, and more.
Academic Counselor – Lupe Delgadillo is the Fine & Performing Arts Academic Counselor. Your Counselor can help you choose, define, navigate, and complete your academic program (major). To make an appointment with Lupe, please visit the Visual, Performing and Creative Arts counseling appointments online link. In order to make an appointment with Lupe Delgadillo, you must be designated as a Fine & Performing Arts (Art, Dance, Music, Theatre) Major. If you have trouble making an appointment, please notify your Educational Advisor, Rosalina Hernandez.
Educational Advisor – Rosalina Hernandez can help you navigate college, use our enrollment systems, connect you with your faculty advisor, peer mentors, Promise Program Coordinator, academic counselor, and more. You can contact Rosalina at Rosalina.Hernandez@rcc.edu, or you can make an appointment with her.
Peer Mentors – Peer mentors are second- or third-year "experienced" college students who are trained to help you navigate college. They can offer you a unique perspective on your educational journey. In addition to being staffed at various days/times in our engagement center, peer mentors are available for one-on-one and small group meetings. They can assist you with referrals to campus resources and student activities, as well as chat with you about the student experience - classes, professors, programs, and more. Visit the Fine & Performing Arts Online Engagement Center on Canvas for more information about our peer mentors, their hours, and how to make personal appointments with them.
Faculty Advisors – Our Fine & Performing Arts faculty are actively involved in their students' educational and career plans. If you are an FPA major, you should be in contact with the faculty advisor in your area of emphasis (see below).
ART
DANCE
MUSIC
THEATRE