Culinary Arts Academy Restaurant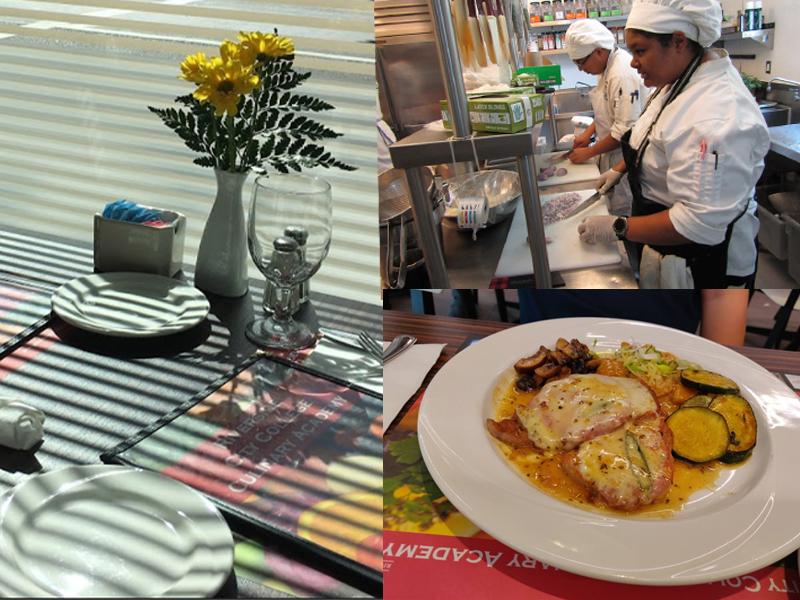 Dining in Motion
Visit Our Dining Room
The Culinary Arts Academy is student-run restaurant that provides future chefs with the opportunity to gain real-world experience. Located in the heart of downtown Riverside, patrons can enjoy meals prepared by the region's up and coming culinary talent. Be our guests!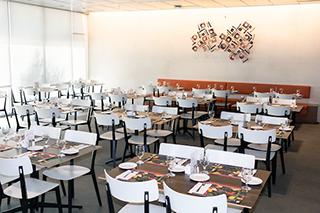 Operation Update - 1/26/2021
Thank you for your support. The restaurant is open for TO-GO order only Tuesday-Friday 11am-12:45pm. Call 951-328-3575 to place orders
Dining Room Hours
Mondays - Closed
Tuesday to Friday
Lunch served 11:00am - 12:45pm
Our Menu
CHEF'S SPECIALTIES
Sous Chef: Shane Twis
SOUP OF THE DAY
Cup $1.75 Bowl $2.25
ENTRÉE SALAD
$6.75
Chef Salad
Spring mix salad tossed in a citrus vinaigrette, ham, turkey, mozzarella cheese, eggs, tomatoes, cucumbers and crumbled bacon
SANDWICHES
Served with your choice of Soup, Salad, or French Fries
$7.50

Classic Rueben
Slowly cooked corned beef, Swiss cheese, sauerkraut, Russian dressing on rye bread, served with pickled vegetables
PIZZA
Served with your choice of Soup or Salad
$7.25

5 cheese Pizza
Mozzarella, provolone, pepper jack, Swiss, and parmesan cheese
SPECIALITY BURGER
$7.50
Pork Burger
Topped with cheddar cheese, spicy mayo and bacon served with a house made pickled jalapeno
ENTRÉE
Served with your choice of Soup or Salad
$7.95

Pasta Seafood
Penne pasta with salmon and cod in a light cream sauce with mushrooms
Pasta Bolognese
Angel hair pasta tossed in a tomato meat sauce, topped with parmesan cheese and basil
DESSERT
$2.25
Vanilla Ice Cream Sandwich
With a choice of Peanut butter or oatmeal raisin cookie
Chiffon Cake
wiith raspberry filling & decorated with Italian Buttercream
*Some items may contain allergens please ask server if you have any concerns.
HANDMADE BURGERS
Served with your choice of Soup, Salad, or French Fries

Market Street Burger $6.25
House made burgers on a bun with Crispy Lettuce, ripened Tomatoes,
Sweet Red Onions, 1000 Island Dressing and a pickle wedge.
With American cheese $6.75

Garden Veggie Burger $6.25
Soy burger on a Sesame Seed bun, Crisp Lettuce, vine ripened Tomatoes,
Sweet red onions and a pickle wedge.
ON THE SIDE
Garden salad $2.50

French Fries $2.50
BEVERAGES
Coke
Diet Coke
Sprite
Dr. Pepper
Root Beer
Pink Lemonade
Raspberry Tea
Ice Tea
Hot Tea
Coffee
Unlimited Refills $1.50
Location
3801 Market Street
Riverside, CA 92501
(951)328-3575
For additional information please call (951)328-3663 "EAT FOOD"