Culinary Arts Academy Restaurant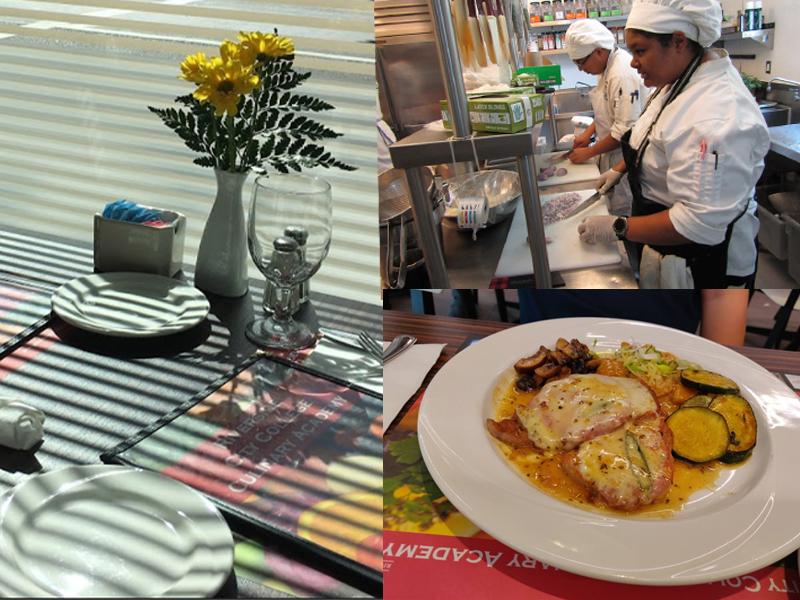 Dining in Motion
Visit Our Dining Room
The Culinary Arts Academy is student-run restaurant that provides future chefs with the opportunity to gain real-world experience. Located in the heart of downtown Riverside, patrons can enjoy meals prepared by the region's up and coming culinary talent. Be our guests!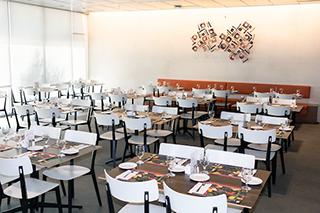 Operation Update - 11/13/2020
Thank you for your support. The restaurant is closed until the new year!
Dining Room Hours
Mondays - Closed
Tuesday to Friday
Lunch served 11:00am - 12:45pm
Our Menu
CHEF'S SPECIALTIES
Sous Chef: Jessey Solis
SOUP OF THE DAY
Cup $1.75 Bowl $2.25
ENTRÉE SALAD
$6.75
Gamberetti Salad
Sauteed shrimp with Marsala wine, mixed organic baby greens, sliced oranges, pine nuts, tomatoes and a citrus dressing
SANDWICHES
Served with your choice of Soup, Salad, or French Fries
$7.50

Pastrami on Rye
Thinly sliced smoked brisket of beef, Swiss Cheese, Russian Dressing, Sauerkraut, served with sweet potato chips

Moroccan Chicken Salad
Breast of chicken in North African spices, homemade mayonnaise, olives and preserved lemons served with cucumber salad
PIZZA
Served with your choice of Soup or Salad
$7.25

Meat Lovers' Pizza
Pepperoni, ham, andouille sausage, provolone, mozzarella and marinara
SPECIALITY BURGER
$7.50
Patty Melt
Beef burger topped with Swiss cheese and caramelized onions on white toast
ENTRÉE
Served with your choice of Soup or Salad
$7.95

Trout ala Meuniere Amandine
Sautéed trout with brown butter, almonds and green beans

Spicy Mexican Southern Fried Chicken and Waffle
Southern inspired fried chicken, waffle with maple syrup and collard greens
DESSERT
$2.25
Bread Pudding
Blueberry Cake
*Some items may contain allergens or pleases ask server if you may have concerns.
HANDMADE BURGERS
Served with your choice of Soup, Salad, or French Fries

Market Street Burger $6.25
House made burgers on a bun with Crispy Lettuce, ripened Tomatoes,
Sweet Red Onions, 1000 Island Dressing and a pickle wedge.
With American cheese $6.75

Garden Veggie Burger $6.25
Soy burger on a Sesame Seed bun, Crisp Lettuce, vine ripened Tomatoes,
Sweet red onions and a pickle wedge.
ON THE SIDE
Italian Sausage wrapped in a Chinese Bun $5.00
House made Italian sausages encased in a sweet dough, whole grain mustard and cornichons

Garden salad $2.50

French Fries $2.50
BEVERAGES
Coke
Diet Coke
Sprite
Dr. Pepper
Root Beer
Pink Lemonade
Raspberry Tea
Ice Tea
Hot Tea
Coffee
Unlimited Refills $1.50
Location
3801 Market Street
Riverside, CA 92501
(951)328-3575
For additional information please call (951)328-3663 "EAT FOOD"