Riverside City College Student Financial Aid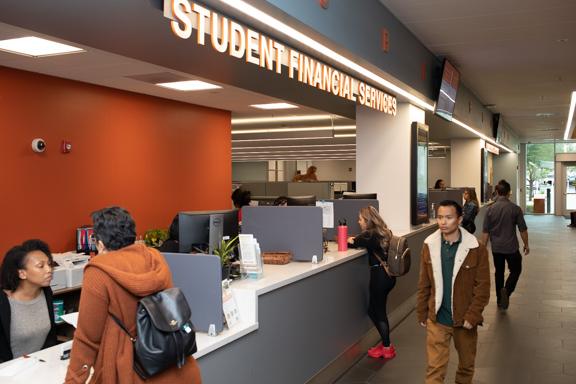 Breaking News
2024-25 FAFSA Will Go Live By December 31
Financial Aid
Just like classes, you need to apply for financial aid each year — October 1st is the first day FAFSA and California Dream Act applications are accepted. Applying is free, and you can even apply before you have registered for classes. Submit your application as soon as possible to increase your chance of receiving awards; some aid is first come first served. Need help? Application workshops are held year-round. Everyone should apply for financial aid, even if you do not think you are eligible.

There are different types of financial aid available. Apply using the Free Application for Federal Student Aid (FAFSA) application or the CA Dream Act Application. RCC will email you at your student email once your results have been received, with initial awards and next steps. You can view any tasks you need to complete by visiting Student Forms. Not all students will have required tasks. You can view your award letter on your RCC Portal, under the financial aid link.  
The 2023-24 FAFSA/CA Dream Act Application covers summer 2023, fall 2023, winter 2024, and spring 2024 terms.
Contact Financial Aid
The office of Student Financial Services is here to help you succeed in college and to guide you throughout the financial aid application, eligibility and disbursement process.
Location: Charles A. Kane Building 1st Floor
Email: studentfinancialservices@rcc.edu.
Phone: (951) 222-8710
Fax: (951) 222-8006
Understanding the Costs
Tuition and fees are only part of the story…books, housing costs, food, personal expenses, transportation…there are other costs in your daily life as a student that you may not have thought about. To get an idea of what the net price/costs to attend school could be, click the button below to visit the Net Price Calculator.
How to Pay for College
There are many types of financial aid to assist you with your educational expenses. Click below to learn more about the financial aid opportunities available to you at RCC.
Helping Riverside Students Fulfill Their Promise
The RCC Promise program is part of a state and nationwide effort to provide affordable education. Full-time eligible students who hold to their "promise" receive free no-fee tuition, support for textbooks, priority registration, access to educational and faculty advisors, activities and a dedicated community. Certain restrictions apply.
Additional Forms and Documents
2023-24 CCPG Application
Agency Verification Forms

For student loan information and forms, email us from your RCCD student email account to studentfinancialservices@rcc.edu. Please include your student ID number.