Commencement 2023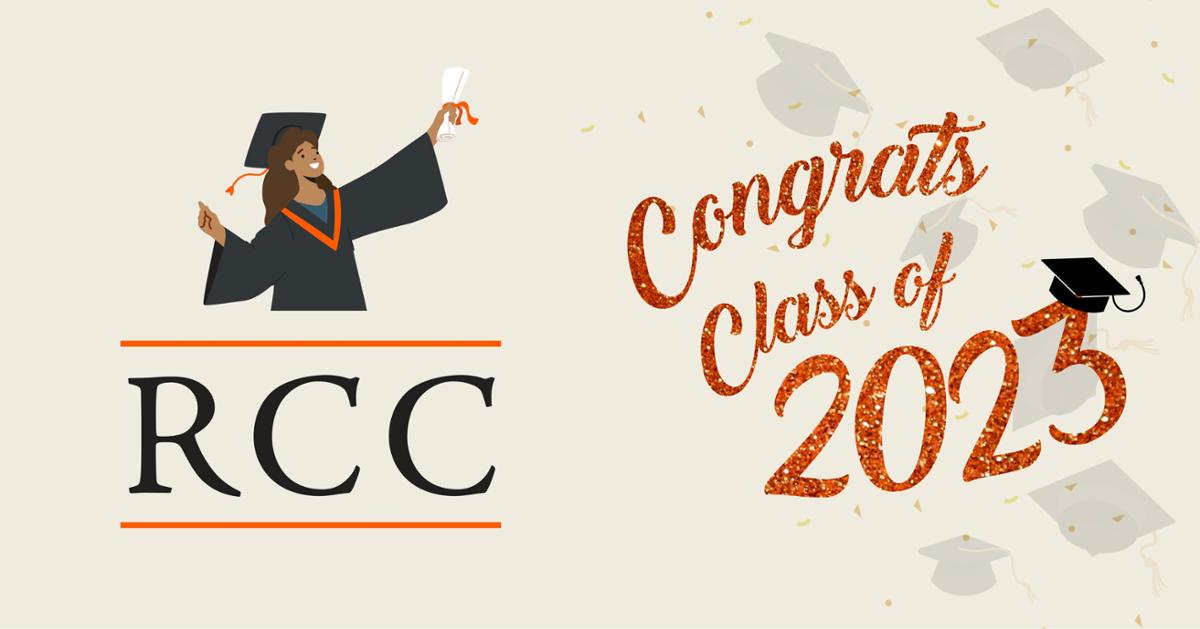 We are excited to celebrate the class of 2023 with not one, not two, but THREE commencement ceremonies. Due to construction on our football field, our commencement will be held INDOORS this year in Landis Theater. Graduates, check back for updates and important information about Commencement 2023. Congratulations to our Tigers and Tiger families.
Ceremonies will be held at 9 am, 1 pm, and 4 pm. Students will check in one hour prior to their assigned ceremony start time- 8 am, Noon, and 3 pm. Guest seatings will be 30 minutes prior to the ceremony. Please note that when the ceremony begins, no additional guests will be permitted, even if they have wristbands! Due to the indoor venue space limitations, guests will be limited-please see details below.
Students MUST RSVP by May 10 in order to participate in commencement. Due to space constraints, there are no exceptions to this policy. Check your RCCD email.
| Ceremony Start Time | Student Check in time | Guest Seating Times |
| --- | --- | --- |
| 9:00 AM | 8:00 AM | 8:30 AM |
| 1:00 PM | 12:00 PM | 12:30 PM |
| 4:00 PM | 3:00 PM | 3:30 PM |
BEFORE THE CEREMONY
---

2023 Commencement Ceremony Guide
Order Cap and Gown
If you desire to purchase academic regalia (cap and gown), this will be available for purchase through the RCC Book Store. Information will be available on the RCC Book Store website soon. You can also purchase your cap and gown during open hours in the bookstore. Regalia is currently available!! Appropriate regalia (cap and gown) is required to participate in Commencement.
RSVP
Students MUST RSVP by May 10th in order to participate in commencement. Due to space constraints, there are no exceptions to this policy. Check your RCCD email.
Name Card
Name cards will be mailed to students who RSVP to the mailing address we have on file. You can also elect that you would like to pick up your name card in Admissions & Records. You must select this on the RSVP form. Log into MyPortal to check your mailing address to ensure it is accurate. You will need to bring your name card to Commencement. This is what you will hand to the faculty name readers who will announce you as you cross the stage. If you have a chosen name that you use, you may write it on the card, and that is the name that will be announced. Please ensure that you write your name out phonetically (how it sounds) so that the name readers can announce your name correctly. You will also receive a wristband for yourself and wristbands for your guests along with your name card.
Wristbands/Guests
Due to space constraints, guests will be limited. Each student will be assigned 2 wristbands for guests. If you would like to participate in commencement, you MUST RSVP in order to receive a name card and wristbands. No graduate or guest will be permitted without the appropriate wristband that corresponds to their assigned ceremony time. Small children who will sit on a lap during the ceremony are the exception. More details on children are below.
Graduation Photos
GradImages® will be photographing all graduates at the upcoming graduation ceremony. Visit GradImages® Preregistration to preregister for photos. After graduation you may order online or call (800) 261-2576.
Accommodations
Riverside Community College District is committed to providing access and reasonable accommodations to all District programs and activities. Accommodations for persons with disabilities may be requested by contacting the Disability Resource Center at drc@rcc.edu, (951) 222-8060, or you may complete the following DRC Commencement 2023 Accommodations request no later than five days before the event. Requests received after this date will be honored whenever possible.
For guests, there will be accessible seating and parking available, as well as ASL interpreters and captioning throughout the ceremony and on the Livestream. For other accommodation requests, please contact Amy DeArcos at Amy.DeArcos@rcc.edu or 951-328-3728.
THE CEREMONY DAY
---
Three Ceremonies!
Ceremonies will be held at 9 am, 1 pm, and 4 pm. Students will check in one hour prior to the ceremony start time- 8 am, Noon, and 3 pm. Guest seatings will be 30 minutes prior to the ceremony. Please note that when the ceremony begins, no additional guests will be permitted, even if they have wristbands!
| Programs of Study* | Start Time | Student Check-in time | Guest Seating Times |
| --- | --- | --- | --- |
| Social Behavioral Sciences & Education | 9 AM | 8 AM | 8:30 AM |
| STEM & Business & CTE | 1 PM | Noon | 12:30 PM |
| Language & Humanities & Health Related Sciences & Visual, Performing and Creative Arts | 4 PM | 3 PM | 3:30 PM |
*Tentative programs of study based on historical RSVP data from previous years. Please note that to maintain an equitable number of guests per ceremony, assigned ceremony times are subject to change based on number of actual RSVP's received this year.
Guests
Guests will not be permitted into Landis without a wristband for the appropriate ceremony. Fortunately, we will have a livestream option available to share with your friends and families so that they can celebrate from the comfort of their home.
Children
Small children/toddlers/infants will be permitted to attend without a wristband but they must be able to comfortably sit on a lap for the entire ceremony. No seats will be given to children without a wristband. Additionally, no strollers, wagons, etc will be permitted into the auditorium. There is no stroller check available-please leave strollers, wagons, etc in your vehicle or at home. Baby carriers (ring slings, wraps, soft-structured carriers) are all permitted. Structured/framed large hiking style backpack carriers are not permitted. Diaper bags are permitted, however all bags will be searched upon entry.
Watch LiveStream
The ceremony will be live streamed and will be available on the RCC website for guests who are unable to attend the ceremony. Updates and information will be coming shortly.
AFTER THE CEREMONY
---
Guests
Please coordinate where you will meet with your guests after the ceremony. The quad courtyard will be a great place to reunite with your family and friends and take photos. It is important to exit Landis Auditorium after the ceremony is over so that we can reset for the next group of graduates.
Graduation Survey 2023
As you prepare to embark on the next phase of your lives, we invite you to participate in the Graduation Survey 2023. Your valuable insights and feedback are crucial to improving RCC's programs and services for current and future students. By taking a few moments to complete this survey, you will have the opportunity to make a lasting impact on the educational experiences of those who follow in your footsteps. The Graduation Survey 2023 covers various aspects of your time at RCC, including academics, student support services, campus facilities, extracurricular activities, and more. Your responses will provide us with invaluable information to better understand your needs and expectations, allowing us to enhance our offerings and ensure an exceptional educational environment.
Should you have any questions or comments regarding the survey or its content, please don't hesitate to reach out to Wendy McEwen, Dean of Institutional Effectiveness, at Wendy.McEwen@rcc.edu. Wendy and her team are available to address any inquiries and provide assistance throughout the survey process.
Gradfest Photos
Congratulations, Class of 2023! We hope you had an amazing time at Gradfest, celebrating your achievements and creating lasting memories. We're excited to announce that the official photos from this year's Gradfest are now available for you to download.
To access and view your Gradfest photos, simply follow these steps:
Sign in using your RCCD (Riverside Community College District) email and password. This ensures the security and privacy of your photos.

Browse through the collection of images and locate your photos.

When you've found the photos you'd like to download, click on the individual image to view it in full size. You'll have the option to download the photo directly to your device.
Remember, these photos are a cherished memento of your time at Gradfest, so feel free to share them with friends, family, and on social media using the hashtag #RCCGrad2023.
Once again, congratulations on your graduation, Class of 2023! We wish you the best in your future endeavors and hope that these photos serve as a joyful reminder of this milestone achievement.
Frequently Asked Questions
Yes. Students who RSVP to commencement will be given two wristbands. Students have the option of requesting additional wristbands at the time they RSVP by being placed on a waitlist if there are additional wristbands available. There is no guarantee of additional wristbands, even if the student requests additional wristbands.
Students will be assigned a ceremony time based on their program of study and are not able to change their ceremony time. The only exception is if a student is scheduled to take a final during their assigned ceremony time. If that occurs, please complete the RSVP form and contact evaluations@rcc.edu as soon as possible to ensure you receive wristbands for the ceremony.
YES! We will be livestreaming the entire commencement ceremony, so your grandma will be able to watch you walk across the stage at commencement from the comfort of her own home. The livestream will show everything that is displayed on the jumbotrons. Additionally, after commencement is over, you can view the entire ceremony on YouTube so you can watch it over and over again!
Sure! She can wear her baby (no strollers or carseat carriers are allowed) or she can carry her baby. Babies do not require a wristband but will need to be held the whole time-no seats will be given to babies or children without a wristband. She can also take advantage of the livestream option and watch from home.
Of course! Accessible seating is available in the auditorium, very close to the entrance.
Sure! We love seeing you express your creativity by decorating your cap. Just keep it classy-no profanity or anything that could offend someone else. Also-make sure that you don't impede your fellow graduates' view of the ceremony. So glitter it up, paint it, bedazzle it-just don't glue a whole teddy bear up there.
Due to the nature of the venue, we ask that you return to your seat and remain seated until the end of the ceremony to be respectful of your fellow grads. If you have an emergency and need to leave the auditorium, you will not be able to return.
Parking will be available for free all day on campus. Grads and guests can park in any white-lined space on campus. Please do not park in the neighborhoods around campus as you will likely get a parking ticket from the City of Riverside. We encourage you to carpool as parking will be limited. Give yourself some extra time to find a spot and try to be patient.
No, there is no required rehearsal. A rehearsal video will be available for you to view prior to commencement. The day of commencement, please be sure to follow all directions from RCC staff. We will be telling you where to go and what to do. You really just need to follow the person in front of you, and you will be fine! Just relax and enjoy your celebration, we got this!
No-please leave noisemaking devices or anything will impede the view of fellow guests at home. Let's try to make this an event for everyone to enjoy. You will not be permitted to enter the auditorium with any prohibited item (this includes weapons of any kind!).
Prior to commencement. Make sure your address is up to date on MyPortal!
In this situation, we recommend that you elect the pick-up option on the RSVP form for your name card and wristbands. You don't want your mail thief to show up and steal your thunder on commencement day instead of you, right?!
We have a very limited supply of wristbands and seats. Lost, stolen, or eaten wristbands will not be replaced. Please safeguard your wristbands as you would any other important document.
Service animals are always permitted as required by law, but no other animals will be allowed into the auditorium. However, you can definitely turn the livestream on for him before you leave your home so he can watch you walk and bark his congratulations at you!
At commencement we will be giving each graduate ONE diploma cover. If you have additional degrees and would like to get additional covers, please come to Admissions and Records the week after commencement. They will be available on a limited basis. You may want to give us a call (951-222-8600) before you come to campus to make sure we have some left.
No-you will only be permitted to walk at ONE commencement. You are able to choose your preferred program of study at the time you complete the RSVP form.
At commencement you will be handed a diploma cover with a nice note in it from RCC's President. Diplomas will be mailed to the address on file approximately 12 weeks after the end of the semester in which you graduate.
Your degrees/state certificates will be listed on your official RCCD transcript after your degree is awarded.
Yes! If you are a student who needs an interpreter, please contact the DRC. For guests, the entire ceremony will have ASL interpretation on the screen and there will also be close captioning on the screen.
Contact Us
Information regarding commencement day will be sent via RCCD email to students who RSVP. Check your email regularly!
If you have any questions, please contact us at Evaluations@rcc.edu.
Commencement Archives
2021