Commencement 2022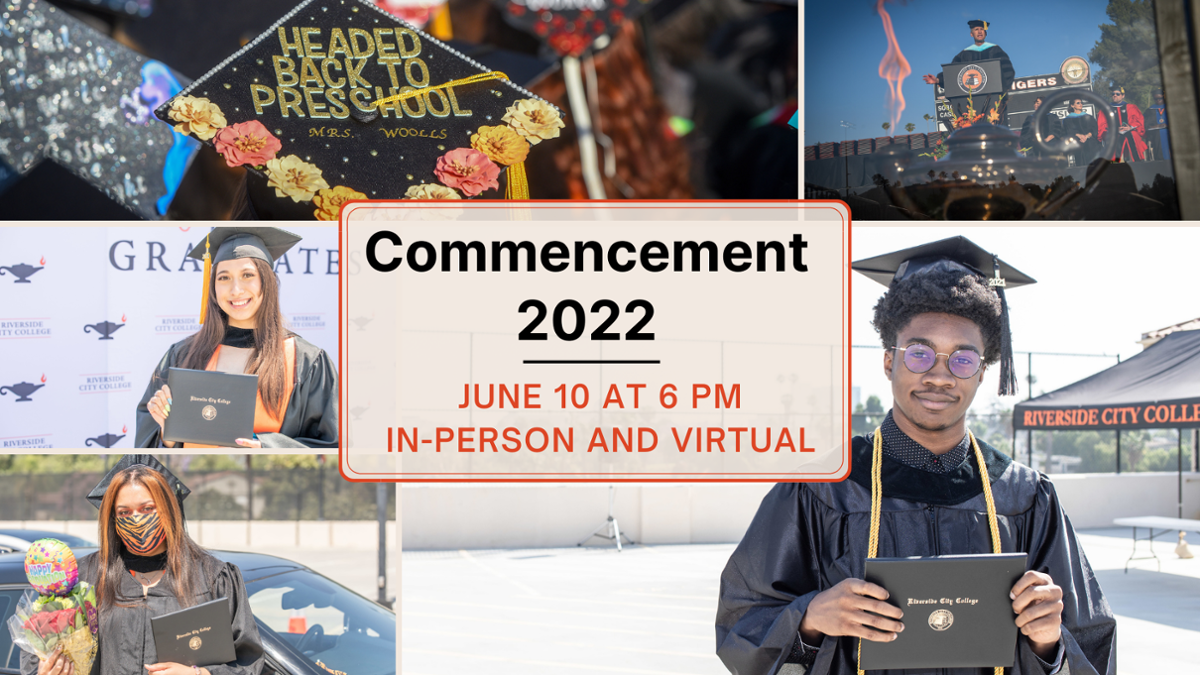 RCC 105th COMMENCEMENT CEREMONY
RCC's Commencement Ceremony returned to Wheelock Stadium on Friday, June 10, 2022, to honor Riverside City College Classes of 2022, 2021, and 2020.
After two consecutive years of being conducted in an online and drive through format with a recorded ceremony, those receiving their Associate Degree of Arts, Associate Degree of Sciences, and Certificates of Achievement walked across the stage in front of family and friends. Watch the ceremony or download the program below.
Frequently Asked Questions
Masks are highly recommended for guests and graduates.
Gates for guests will open at 4 pm. Please bring water, sunscreen, and medications if needed.
While there is no set limit on guests who can attend, once capacity for the stadium is reached, we will be unable to admit any more guests.
YES! We will be livestreaming the entire commencement ceremony, so your grandma will be able to watch you walk across the stage at commencement from the comfort of her own home. The livestream will show everything that is displayed on the jumbotrons.
Sure! There will be accessible seating on the field that will allow for your sister to bring her stroller. She can also take advantage of the livestream option and watch from home.
Of course! Accessible seating is available on the field, very close to the entrance. A limited number of parking spaces will be available close to this entrance, but he can also be dropped off at the gate.
Sure! We love seeing you express your creativity by decorating your cap. Just keep it classy-no profanity or anything that could offend someone else. Also-make sure that you don't impede your fellow graduates' view of the ceremony. So glitter it up, use paint, etc just don't glue a whole teddy bear up there.
RCC will be hosting its first Grad Fest '22 on May 26 from Noon - 2pm in the Quadrangle. You can receive free supplies to decorate your cap!
Due to the nature of the venue, we ask that you return to your seat and remain seated until the end of the ceremony. If you have an emergency and need to leave the field, you will not be able to return.
Parking will be available for free all day on campus. Grads and guests can park in any white-lined space on campus. Please do not park in the neighborhoods around campus as you will likely get a parking ticket from the City of Riverside. We encourage you to carpool as parking will be limited. Give yourself some extra time to find a spot and try to be patient. We will have designated drop off areas as well if you use a rideshare.
No, there is no required rehearsal. A rehearsal video will be available for you to view prior to commencement. The day of commencement, please be sure to follow all directions from RCC staff. We will be telling you where to go and what to do. Don't worry, we've done this 105 times!
No-please leave noisemaking devices or anything like this at home. They will impede the view of fellow guests. Let's try to make this an event for everyone to enjoy. You will not be permitted to enter the stadium with any of these items, so you could risk missing a seat if you bring them and have to take them back to your car.
Prior to commencement. Make sure your address is up to date on MyPortal!
No worries, we will have extra cards available at commencement. Please have your student ID number handy so we can verify that you are a graduating student.
Service animals are always permitted, but no other animals will be allowed into the stadium. However, you can definitely turn the livestream on for him before you leave your home so he can watch you walk!
At commencement we will be giving each graduate ONE diploma cover. If you have additional degrees and would like to get additional covers, please come to Admissions and Records after your degrees are awarded. They will be available on a limited basis. You may want to give us a call at 951-222-8600 before you come to campus to make sure we have some left.
At commencement you will be handed a diploma cover with a nice note in it from RCC's President. Diplomas will be mailed to the address on file approximiately 12 weeks after the end of the semester in which you graduate.
Your degrees/state certificates will be listed on your official RCCD transcript after your degree is awarded. Transcript requests can be made online through Transcripts plus or on MyPortal. Please see the Transcript Request page for more informaiton.
Yes! If you are a student who needs an interpreter, please contact the DRC. For guests, the entire ceremony will have ASL interpretation on the jumbotrons and there will also be close captioning on the jumbotrons.
RCCD Police will be present throughout campus. Additional security have also been hired to support our campus police. For your safety, all bags will be searched prior to entering the area.
RCC will have some water available, however it will be limited. We encourage you to bring your own water. Additionally, water and snacks will be sold at various locations.
Contact Us
Information regarding commencement day will be sent via RCCD email so check your email regularly!
If you have any questions, please contact us at Evaluations@rcc.edu or call 951-222-8610 and leave a message for a return phone call.
Commencement Archives
2021
2020