Aquatics Complex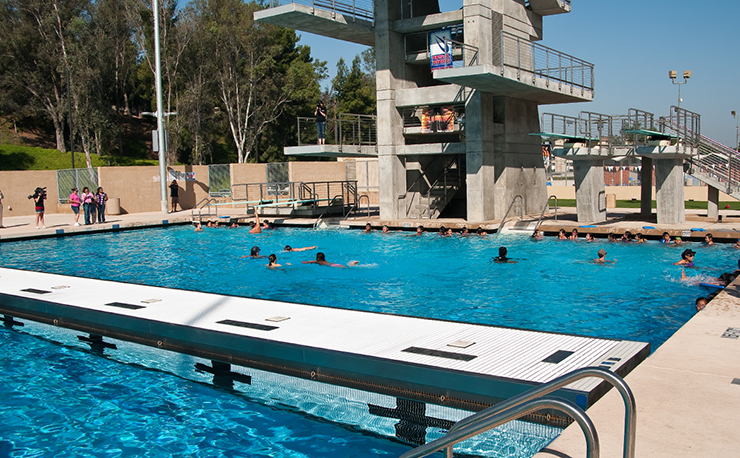 Aquatics in the Inland Empire reached a new level with the Riverside Aquatics Complex. Featuring the region's first 65-meter competition pool, the project offers exciting opportunities as a world class training facility for RCC and other competitive swim, dive, and water polo teams and individual athletes. The complex also helps address the growing need for sports medicine and water fitness classes, and swimming education and recreation programs for the community.
Aquatics Complex
The Riverside Aquatics Complex is located next to Cutter Pool on the lower campus. This location means convenient access to the 91 and 60 freeways. Features: 65 meter all deep pool Diving tower with 3, 5, 7.5, and 10 meter platforms 1 meter and 3 meter springboards (2 each) poolside Moveable bulkhead allows for up to three simultaneous activities Competition lighting Locker rooms and team rooms Poolside bleachers 2 hydraulic lifts for disabled access (courtesy of Wells Fargo) Electronic scoreboard The bulkhead allows simultaneous uses and enhances training and competition opportunities. Two 3-meter and two 1-meter boards will flank a diving tower equipped with 3, 5, 7.5, and 10 meter platforms. Permanent grandstands accommodate 800 fans, and the facilities are accessible for individuals with disabilities. Individual team locker rooms and coaching offices are housed in a new building. The two existing Cutter pools serve as practice, warmup, and water education facilities, along with the existing building, which house a classroom, public restrooms, and changing areas.
| | |
| --- | --- |
| Cutter Pool | |
Rental Rate
| | | |
| --- | --- | --- |
| Direct Cost per hour | Fair Market Value per hour | Maximum Capacity |
| $75 | $150 | 50 |

Rental Rate
| | | |
| --- | --- | --- |
| Direct Cost per hour | Fair Market Value per hour | Maximum Capacity |
| $150 | $300 | 1000 |
Aquatics Complex Reservation
Please complete Aquatics Complex application to request for use of Aquatics Complex. Request must be submitted at least 14 days in advance and cancellations must be made no later than 48 hours prior to event date. Non-profit organizations wishing to submit a request to waive or reduce facilities fees should do so 6 weeks prior to event date to allow ample time for consideration. Large scale events are subject to additional planning time and mandatory pre-event meetings. Staff fees, parking, and technical support may apply. Please refer to RCCD procedure AP 6705 for use of Aquatics Complex.
The combination of our professional staff and beautiful campus will make your event a memorable success. If you are interested in hosting your event at Riverside City College and would like an event quote please contact the Facilities Access and Utilization Coordinator at (951) 222-8498 or email facilitiesuse@rcc.edu.
Contact Us
If you're interested to get more information, please contact us
Phone: (951) 222-8498
Email: facilitiesuse@rcc.edu