RCC Outdoor Plant Laboratory Receives 2023 Beautification Award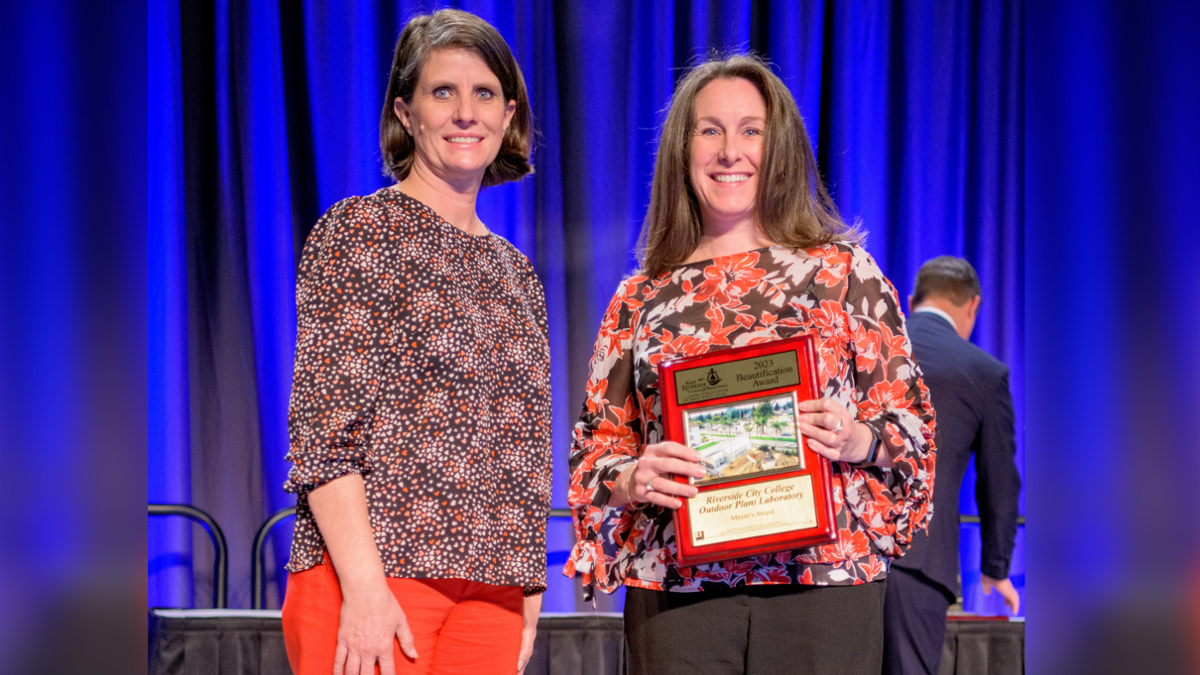 On Thursday, January 26th, the Riverside Community College Outdoor Plant Laboratory was one of seventeen recipients honored with a Beautification Award from Keep Riverside Clean and Beautiful (KRCB) and the Greater Riverside Chambers of Commerce (GRCC). The ceremony took place during the annual Mayor's State of the City Address at the Riverside Convention Center in Riverside, CA.
RCC interim President Dr. FeRita Carter, other leaders of the RCC Executive Leadership team, and Professor of Life Sciences, Dr. Virginia White attended.
Dr. White shared,
"For all of the students, staff, and faculty associated with the Outdoor Plant Laboratory, this award is such an honor. I was truly humbled to accept this award on behalf of everyone who works so hard to keep the Plant Lab thriving throughout the year. Thank you so much to the Riverside Chamber of Commerce and Keep Riverside Clean and Beautiful for recognizing the Outdoor Plant Lab with the 2023 Mayor's Beautification Award."
With a new mission as that of an academic classroom space, the Outdoor Plant Laboratory is poised to revive the long and rich heritage of plant biology at Riverside City College. The Plant Lab provides the opportunity for a new generation of students interested in sustainability and adaptability to learn from experts in plant biology.
The Outdoor Plant Laboratory also aims to encourage Riverside and surrounding communities to explore the world of plants around them. Between the critical need for training new agricultural leaders to the expanding popularity of houseplants throughout the pandemic, the Outdoor Plant Laboratory offers learning opportunities for students with wide varying interests.
To learn more about the Outdoor Plant Laboratory check out: https://www.rcc.edu/about/news/greenhouse-grand-opening.html