Welcome Day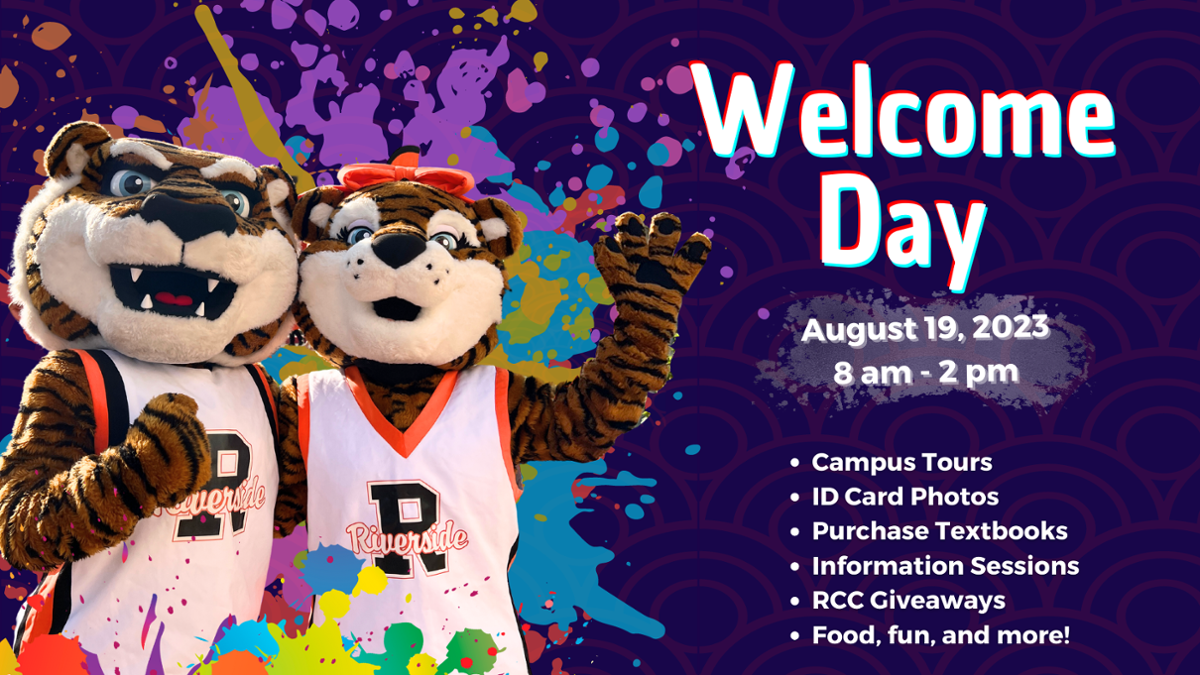 New and Returning Tigers Enjoy Welcome Day '23
Save-the-Date!
August 19, 2023
8 am - 2 pm
4800 Magnlia Ave. Riverside, CA 92506
Introduction paragraph with good information and reasons to join!
Schedule of Events
Time
Event
Location
8 am
Check-in
Terracina Ave
9 am
Welcome Address with Chancellor Issac, President Carter, VP Cruz-Soto, RCCD Trustees, ASRCC President
Quad Courtyard
10 am
Concurrent Sessions #1
Various
11:30 am
Lunch Served
RCC Band & Cheer Squads performing
Terracina Ave.
MLK Promenade & Mine Okubo Ave.
12:45 pm
Information Sessions #2
Various
Concurrent Sessions
Program/ Engagement Center
Location
Admissions and Records
Dr. Charles A. Kane Building (CAK) 1st floor
Welcome Center
Dr. Charles A. Kane Building (CAK) 1st floor
CalWORKs
Arthur G. Paul Quad 127
Trio
Arthur G. Paul Quad 128
EOPS/CARE/NextUp
Arthur G. Paul Quad 144
Upward Bound
Arthur G. Paul Quad 120
Disability Resource Center DRC
Dr. Charles A. Kane Building 140
Guardian Scholars/ Foster Youth & Kinship
Digital Library (DL) 121
Umoja
Heritage Room
La Casa
Hall of Fame
Science, Technology, Engineering, and Mathematics (STEM)
Martin Luther King Jr. (MLK) 221
Fine Performing Arts (FPA)
Stover Music Hall 118
Language, History, and Social Sciences (LHSS)
Music 104
Health Related Science (HRS)
School of Nursing (NURS) 155
Career and Technical Education-CTE
Technology A (TCHA) 107
Student Support Centers
Martin Luther King Jr. (MLK) 219

***Locations subject to change.
The Riverside Community College District does not discriminate on the basis of race, color, national origin, sex, disability, or age in its programs and activities. The following person has been designated to handle inquiries regarding the non-discrimination policies or practices: District Compliance Officer, 3801 Market Street, Riverside, CA 92501, (951) 222-8039.