LGBTQIA2+ History Month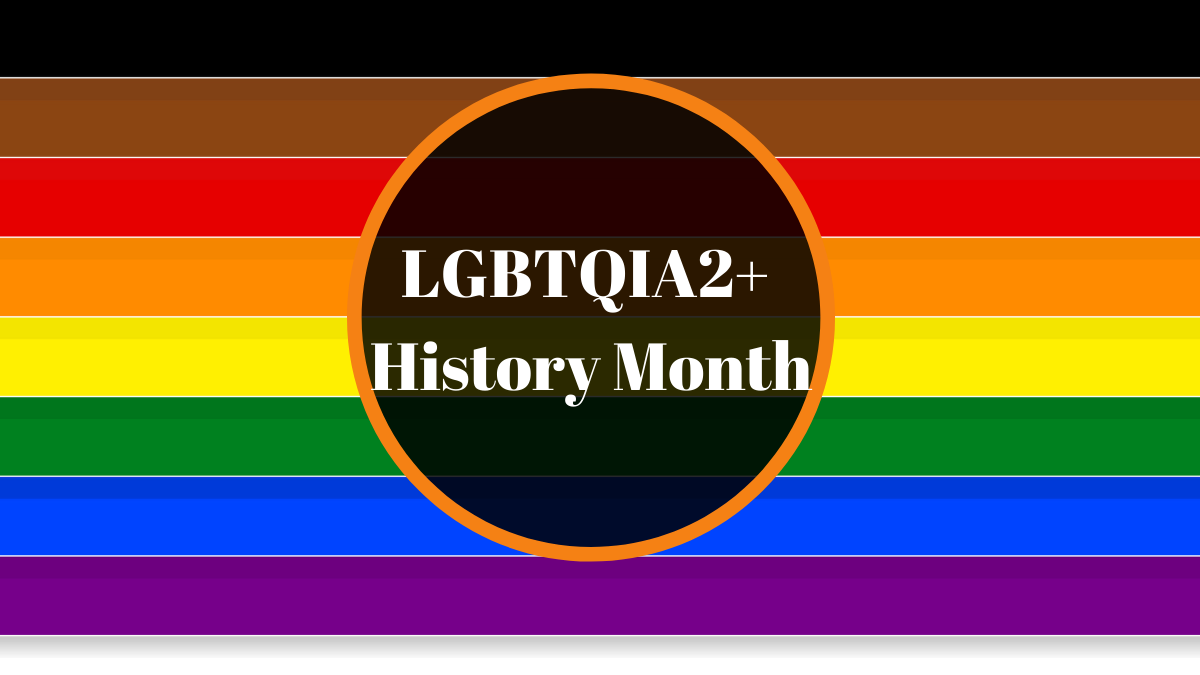 Happy LGBTQIA2+ History Month!
The LGBTQ+ Association for Student Success and Equity (LASSE) has been working hard to put together a month-long series of events. We will celebrating with our first ever LGBTQIA2+ Student Hours on campus and a film screening of Transvisible: The Bamby Salcedo Story, in joint celebration of Latinx Heritage Month with La Casa and the Association for Latinx Advocating for Student Success (ALASS)!
We hope that you will join us for some or all of these events, and share this information with your students in person and on Canvas!
Month of Events
Transvisible: The Bamby Salcedo Story (Film Screening)
October 7, 12:30-2 pm
Bradshaw Building, Hall of Fame*
With La Casa and Association of Latinx Advocating for Student Success (ALASS)
LGBTQIA2+ Allyship Training (Virtual)
October 8 and 15, 3 to 5 pm
For faculty, classified professionals, and administrators
Email Andrea.Dillon@rccd.edu to RSVP
Coming Out Stories
October 11, 12:50 to 1:50 pm
Martin Luther King 304* and Zoom (Meeting ID: 941 7376 0751, no password)
Come to listen, share, and be in community!
ASRCC Build-A-Rainbow
October 19, Noon to 2 pm
Quad Steps*
Free plush rainbows!
LGBTQIA2+ Town Hall (Virtual)
October 25, 11 am to noon
RSVP for Zoom link: tinyurl.com/10252021
Join us for questions and conversation with LASSE!
LGBTQIA2+ Community Meet and Greet
October 27, 3 to 4 pm – Zoom (Meeting ID: 947 0327 2209, no password)
October 27, 4 to 5 pm – Nursing Outdoor Garden*
Celebrate the end of LGBTQIA2+ History Month in community! Meet new folks, and re-connect with folks you've met before.
All Month Long!
LGBTQIA2+ Student Hours
Every Wednesday, 1 to 3 pm
Drop-in or stay the entire time!
1st and 3rd Wednesdays in-person: Martin Luther King 304
2nd and 4th Wednesdays: Zoom
Meeting ID: 969 6943 2434
Password: 101121
This time will allow students a (temporary) dedicated space to:
study in an explicitly LGBTQIA2+-affirming space
connect with peers
connect with faculty, classified professionals, and administrators who will be doing drop-in hours
receive academic and personal support
learn about programs, services, and resources available on and off campus
2021 Out and Ally List
This is the second year of our Out and Ally List! If you would like be included in the 2021 list, please complete the following short form by Sunday, October 31st at 5pm: tinyurl.com/rccoutally21
By submitting your name to the Out and Ally list, you are committing to the following statement:
We list our names here as lesbian, gay, bisexual, trans, queer, intersex, asexual, Two-Spirit (LGBTQIA2+) and ally students, staff, faculty, and administrators at Riverside City College. We know that coming out is a personal decision that is made continually over one's lifetime. We understand that it can be an empowering and rewarding process, but that it also comes with varying levels of risk to one's emotional and physical safety, as well as financial and basic needs security. We acknowledge that all of our experiences are real and valid, whether or not we can or choose to be "out and proud" at this time.
No matter where you are on your journey, we will welcome you, listen to you, work with you, support you, advocate for you, and connect you with any resources you may need. We are committed to dismantling the homophobia, transphobia, and other systemic oppressions that marginalize LGBTQIA2+ people, and actively working toward a more inclusive and equitable campus environment.
LGBTQIA2+ Historical Heroes
An opportunity to learn (more) about LGBTQIA2+ people, past and present, who have made a significant impact on LGBTQIA2+ culture, rights, visibility, support, and equity. One person per day will be highlighted on campus, Canvas, and social media throughout the month of October!
*Note: must be cleared through CLEARED4 to attend all in-person events.
For more information, contact LASSE Co-Chairs, Al Weyant-Forbes (allan.weyant-forbes@rcc.edu) or D. Brown (deborah.brown@rcc.edu).
Riverside Community College District is committed to providing access and reasonable accommodation to all District programs and activities. Accommodations for persons with disabilities may be requested by contacting the program/event organizer at allan.weyant-forbes@rcc.edu no later than three days before the event. Requests received after this date will be honored whenever possible.