Heidelberg USA Establishes the Thoro Packaging Printing Scholarship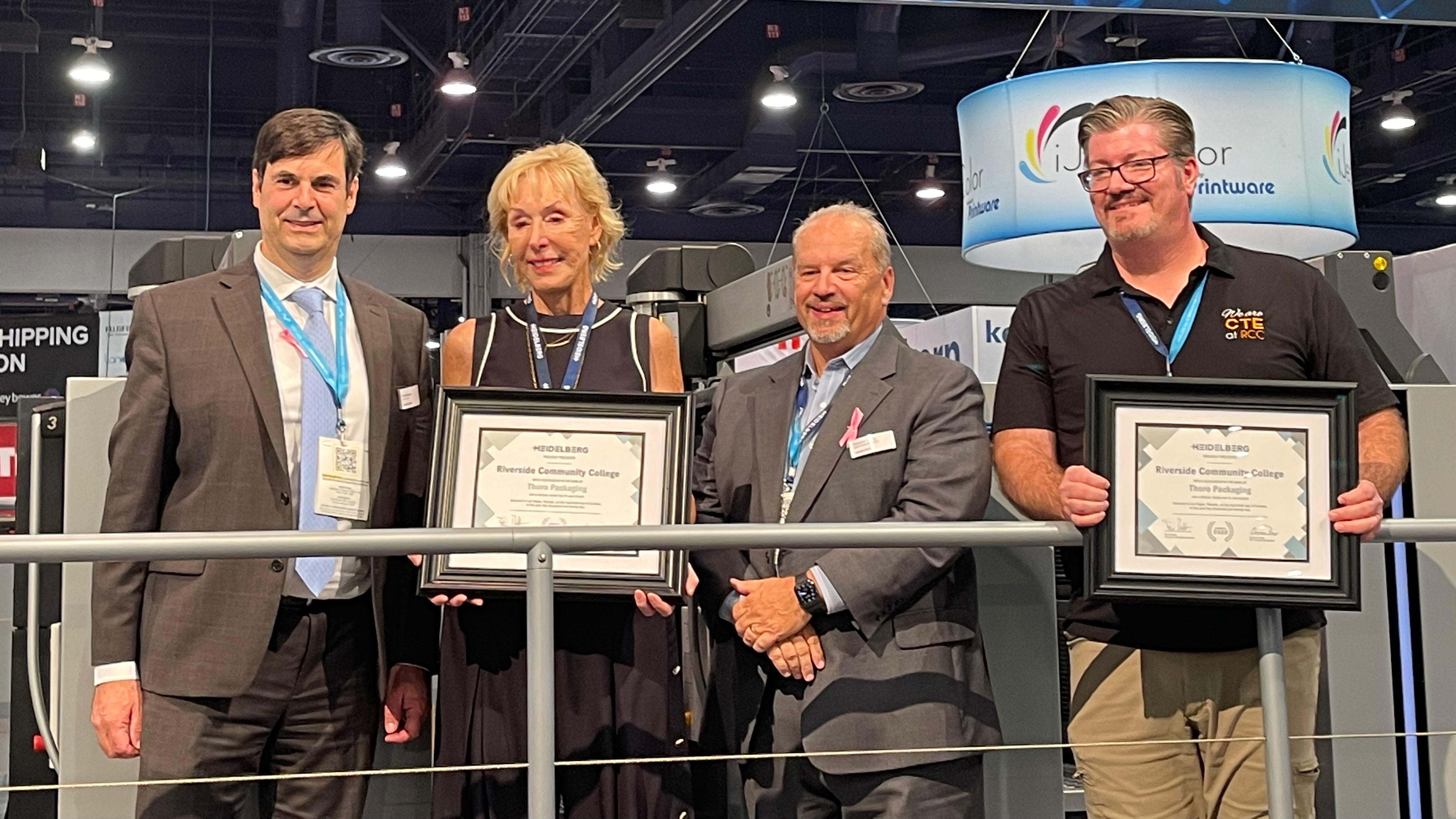 Heidelberg USA, the world-wide leading partner and provider of solutions and services for the print media industry, established the Thoro Packaging Printing Scholarship at Riverside City College. The scholarship will provide $5,000 per year for the next five years to benefit students pursuing a degree in commercial printing from the College's Applied Digital Media and Printing program.
Thoro Packaging, located in Corona, has partnered with companies for over 45 years on custom, innovative printing solutions. Founded by Macy Dabek in 1967, the company opened with a single one-color printing press and a small die cutter. Today, Thoro Packaging is run from a facility of nearly 100,000 square feet. In June 1982, Dabek stepped down as President of Thoro, and replaced by his daughter, Janet Dabek Steiner.
To date, Steiner has donated over a million dollars to the Applied Digital Media and Printing program. Earlier this year, she announced the donation of a Heidelberg SpeedMaster SX 52 press as well as facility upgrades for the College's Technology A Building.
At RCC, the Heidelberg SpeedMaster SX 52 printing press will be used by students to learn automation, digital workflow, packaging and printing production performance, and efficiency for job skill development and course curriculum enhancements.
The College's ADM Printing program began in 1921 and has a history of excellence in graphic communication education. The program is the only California community college-based program accredited by PrintEd dedicated to all aspects of commercial printing.
After a successful 36-year career as the chief executive officer, Steiner decided to sell the company. Heidelberg USA's announcement of the Thoro Packaging Printing Scholarship was a way for the company to honor Steiner and her father. The first scholarship will be awarded in the spring of 2023.
"RCC's ADM Printing program is thankful to Heidelberg USA and Jan Steiner for their continued recognition of investing in the next generation of print professionals," Patrick Scullin, associate professor for Applied Digital Media and Printing, said. "Because of their generosity students studying Printing Graphics at RCC will have the opportunity to learn the latest commercial technology and have access to a scholarship award that will help pay for their education."
Photo identifications:
Felix Mueller, President Heidelberg USA
Jan Steiner, Founder Thoro Packaging
Clarence Penge, Vice President of Product Management
Patrick Scullin, Associate Professor RCC