RCCD and Local Experts Discuss 21st Century Policing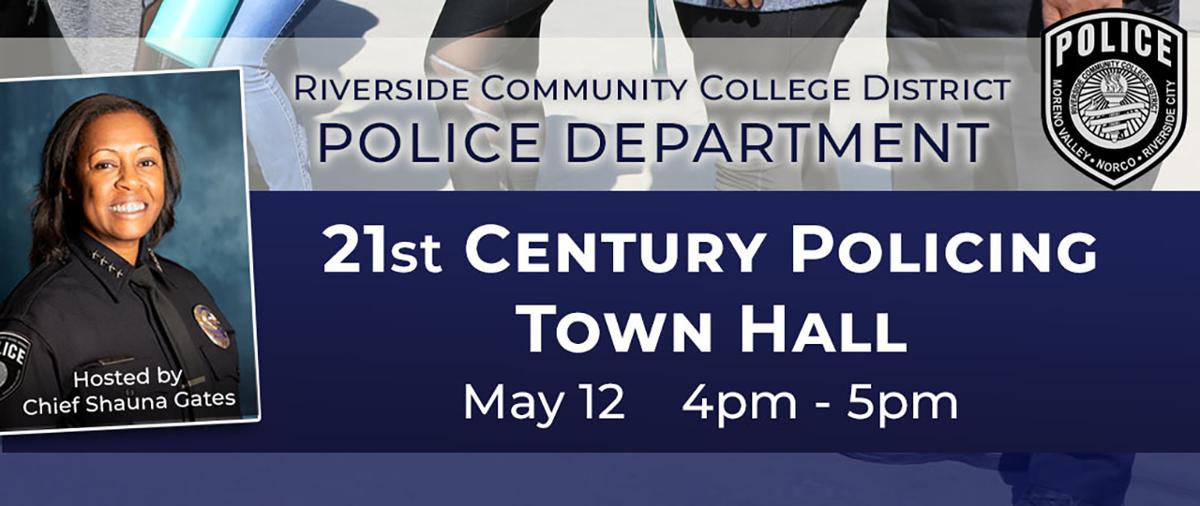 Riverside Community College District Police Department hosted an in-depth discussion on 21st Century Policing concepts and California legislation on police reform. RCCD Police Chief Shauna Gates assembled an impressive panel, which included five RCCD faculty experts, three RCCD students, and UC Riverside's interim police chief. Chief Gates moderated the District-wide discussion.
The RCCD police department scheduled town hall meetings at each college, but were cancelled due to the pandemic. This town hall was organized to discuss more in-depth topics concerning the communities, different aspects of policing, and approaches to implementing 21st century policing concepts. Students, faculty, classified professionals, and community members tuned in to hear the informative discussion.
In response to serious incidents between law enforcement and the communities they serve, former President Obama appointed an 11-member task force on 21st century policing, the task force identified six pillars to address what communities desire from peace officers:
Building Trust and Legitimacy
Policy and Oversight
Technology and Social Media
Community Policing and Crime Reduction
Training and Education
Officer Wellness and Safety
This discussion mainly addressed two of the pillars, policy and oversight and training and education. They also discussed ways to change policing in America in the context of broader concerns about systemic racism and inequality.
Gates presented panelists with questions submitted in advance as well as questions from town hall attendees. Panelists addressed topics from defunding the police, law enforcement training and education, and policy and oversight, in response to the mental health crisis. They also discussed requirements of newly hired and veteran officers, the decertification process of peace officers, and how agencies are building trust and legitimacy within their communities.
Chief Gates assured attendees future discussions are being scheduled. She concluded encouraging attendees to "stay involved in their communities, not just through word, but also through peaceful action."
Panelists:
Geovanni Estrada – Student (MVC)
Michael Jimenez – Student, Umoja leader and Equity, Diversity, and Inclusion committee representative (NC)
Taimara Coleman – Student, Umoja representative (RCC)
Dr. Charles Wilhite – Assistant Professor of Homeland Security and Administration of Justice (MVC)
Nancy Aguirre – Assistant Professor of Administration of Justice (MVC)
Dr. Sigrid Williams – Associate Professor of Administration of Justice (NC)
Dr. Melissa Matusak – Associate Professor of Administration of Justice (RCC)
Dr. Oliver Thompson – Associate Professor of Administration of Justice (RCC)
John Freese – Interim Chief of Police (UCR)