Congressman Visits American Politics Class and Provides Valuable Insights to Students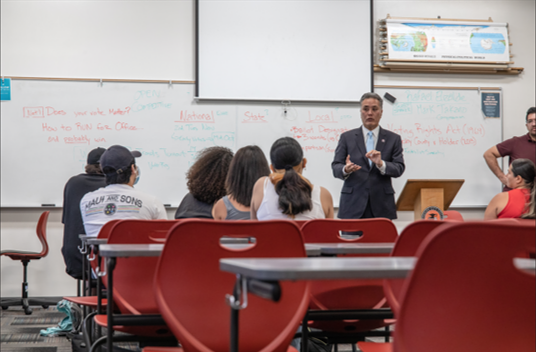 U.S. Representative Mark Takano provided RCC's political science class real-life experience, furthering students' learning about American government. The Congressman attended Professor Rafael Elizalde's American Politics class on July 6th and provided a firsthand perspective of issues faced locally and across the United States. He shared how a boy from Riverside became passionate about government and public service, and how after several failed attempts, h successfully won the 2012 election earning him a seat in Congress.
Learning about the Congressman's 19-year journey to Capitol Hill and his experiences in government was enlightening for the students. Daniel Barboza, an architecture major, said, "To be honest I'm really not into politics, but hearing him talk about everything made it more interesting,"
Takano, who represents California's 41st District, met with students in the hybrid POL-1 class taught by Elizalde, an associate professor who also happens to be Takano's Deputy Chief of Staff. The Congressman engaged in an hour-long discussion that included questions-and-answers with students on topics such as the Constitution, electoral maps, privacy, and critical issues facing Americans today.
America Guerrero, a child development major said after meeting Takano she left class with a positive outlook. "I like that he supports us and how they (Congress) want to revisit other issues," she said. However, she still has concerns about some of the Supreme Court justices and other elected officials. "It's 2022 and I don't see why they would ban contraceptives or stop same sex marriage," she said.
Prior to being elected to Congress, Takano was a member of the RCCD Board of Trustees and a high school teacher in the Rialto Unified School District. He was elected to the U.S. House of Representatives in 2012.
Congressman Takano represents the residents of the 41st Congressional District of California, which includes Riverside, Moreno Valley, Jurupa Valley, and Perris. He currently serves as the chairman of the House Committee on Veterans' Affairs, and as a member of the Education and Labor Committee.