Black Box Theatre Renamed to Honor Long-Time Professor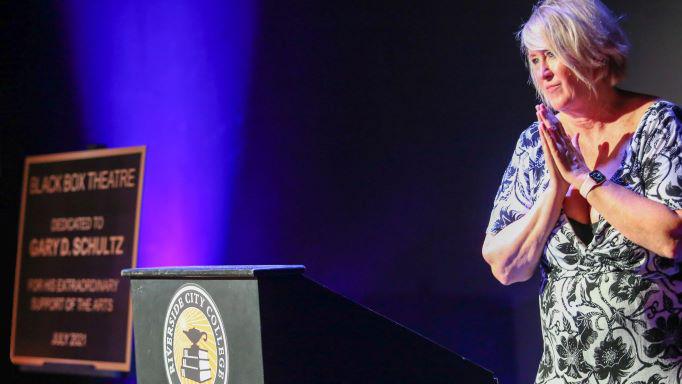 The memory of Gary D. Schultz lives on at RCC. On July 9, the College's black box theatre was renamed to honor the long-time associate professor of Theatre Arts. Colleagues, family, and friends celebrated the renaming of the black box theatre at a ceremony on campus.
Schultz is remembered as a Riverside theatre innovator, a champion of the arts, an idea man, and a creator of theater who brashly dove forward to create and educate when others could not see the path. His artistic legacy is his gift to Riverside and RCC students. Many locals remember the outdoor summer theater program he spearheaded.
Schultz's connection to RCC dates as far back as 1955 when he was a student. He joined the Performing Arts faculty in 1965 and in 1977, in addition to his duties at the College, he became the entertainment director at The Mission Inn. In the fall of 1977 Schultz started The Mission Inn Dinner Theatre, which successfully ran for six seasons.
At the invitation of former RCC President Chuck Kane, Schultz brought staff from the Dinner Theater to RCC. He led the organization through 14 seasons and over 95 productions before retiring. In that time, the group was re-branded to Riverside Civic Light Opera (RCLO) and finally to Performance Riverside.
Since its beginning in 1983, Performance Riverside has produced over 180 unique musical titles, and over 200 musical productions. It also has sponsored dozens of Family Series Productions and Big Band Concert events. Today, Performance Riverside brings Broadway style musicals to the region as well as continuing its long tradition of offering discount performances for school and youth groups with its Discovery Theatre outreach program.
The Board of Trustees approved a recommendation to name the College's black box theatre to honor former and respected Theatre Arts professor Gary D. Schultz at its Regular Board Meeting on June 15.
Schultz was committed to RCC, the Theatre program he had tirelessly built, and most importantly his students. His legacy remains at RCC and in the community.