President's Leadership Team February 2, 9, and 16, 2022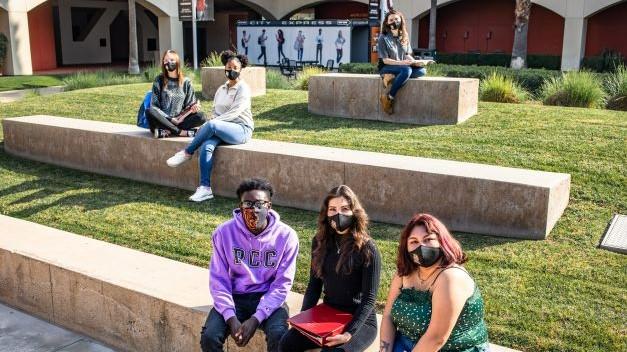 PLT reviewed the following information items:
California Community College Racial Equity Leadership Alliance
PLT discussed the College's membership of the California Community College Racial Equity Leadership Alliance through the USC Race and Equity Center. After consultation with Student Equity leads, it was decided that RCC would renew for another year. The outcomes of the surveys provided to members offer valuable information and the monthly e-convenes provide additional tools for College teams.
Joint Power Authority Property Appraisal
VP West informed PLT of the upcoming visit to assess College facilities. Every three years, the Joint Power Authority (JPA) visits California's community colleges to evaluate building conditions and assess values of College facilities. The visit, previously scheduled in 2021, was delayed due to the pandemic and was rescheduled to March 28, 2022. In the upcoming visit, College Facilities team members will accompany JPA staff and assist them in evaluating RCC's current facility conditions. A new certified report will be provided to the College by June 2022.
Riverside Latino Network
On February 14 President Anderson attended the Riverside Latino Network meeting to present the College update "RCC: the Community's College." He discussed with Network members topics including: college goals, achievements, enrollment, access, response to student needs, and civic engagement.
CCLC Governmental Relations Webinar
PLT understands the important role governmental relations and policy advocacy play in advancing the College's mission. College leaders monitor state and federal legislative activity and engage with elected leaders. PLT participated in a recent governmental relations webinar hosted by CCLC with valuable updates to legislation directly related to community colleges. More information can be viewed through the powerpoint and webinar recording.
Cyber Defense Program NSA Validation
VP Wright shared with PLT that the Information Security and Cyber Defense program achieved CAE-CD validation from the National Science Agency (NSA) and the Department Homeland Security (DHS). This validation confirms that program curriculum meets the standards put forth by the NSA and Department of Defense in articulating effective Cybersecurity education. This is a significant achievement for the E740 Information Security and Cyber Defense program and makes RCC stand out from neighboring programs. This is the first phase of becoming a Center for Academic Excellence.
Athletic Recognition for RCCD Alumnus of the Year
VP Carter reported that the Athletics Department hosted a recognition and pre-retirement celebration for RCC Athletic Hall of Fame member, former Women's Basketball head coach, and counselor Micheal Barnes on February 4. The celebration was held following the Men's Basketball game and preceding the Women's Basketball game. Professor Barnes plans to retire from RCC this spring after serving the College for 40 years. The College and District honored Barnes as the 2021 RCCD Alumnus of the Year during Giving Week in December.
PLT reviewed the following policy items:
Budget
In every meeting PLT discusses the latest budget information, considers potential revenue sources, and reviews emergent resource needs.
Currently, California's community colleges are protected from declines in revenue through "emergency conditions." This mechanism, until it expires, provides time for the College to engage in prudent fiscal management, deploying resources now to rebuild enrollment in Summer, Fall, and beyond. This combination of preparing for potentially significant budget challenges while simultaneously investing in bringing students back should help the College achieve its mission while protecting the financial health of the institution.
Advocacy for fair funding for RCC and other colleges is part of the District's engagement efforts as legislators and other policy makers hear from RCCD's trustees, Chancellor, and three college presidents.
In addition to those advocacy efforts, President Anderson was recently appointed to represent Region 9 on the statewide Student Centered Funding Formula taskforce. In this role, he will seek equitable allocations of resources for colleges like RCC that serve students in the state's highest need areas.

One current budget challenge is funding ongoing capital construction and renovation projects which costs continue to rise precipitously. To fund these critical capital projects, PLT continuously allocates one-time funding and reallocates one-time savings within operations (travel, supplies, open positions). It is not likely that this one-time funding will continue in the future. Therefore, all College initiatives and purchases are carefully evaluated to ensure that RCC remains fiscally strong.

The new Guided Pathways funding allocation should be provided in April. The funding is a one-time allocation spread over two years.

As of July 1, the District has combined Equity, SSSP and BSI into one fund, rather than separated as has been done in the past. This change aligns with state reporting structures.
2021-22 Grants
VP West shared with PLT the monthly reconciliation list of RCC grants and discussed areas of concern going forward to ensure that all grants are completed by their ending date.
Concur Training Modules
PLT anticipates a significant increase in opportunities for in-person workshops, conferences, and training events. This positive development will also demand increased training and support for the use of Concur, the District's web-based travel approval and booking system.
To meet the demand for training and end-user support, Natalie Halsell, professional development coordinator, is in the process of creating several training videos. Once completed, the videos will be made available on LinkedIn Learning as part of a Concur learning collection. Examples of the training materials:
RCC PS-LS Reconstruction Project
VP West updated PLT on the reconstruction of the former Physical Science/Life Science buildings. Ground will break this fall. This facility is the future home of the Business and Computer Information System programs. The goal is to have minimal impact on instruction and operation during construction. Updates will be provided as needed.
New construction fencing will go up in August 2022 (ahead of the start of the fall semester) - site logistics

Construction anticipated to begin in fall 2022

Miné Okubo Drive will need to be reconfigured slightly (removal of some street parking) to accommodate construction trucks
Assembly Bill 1746 - Cal Grant Reform Act
PLT discussed Assembly Bill 1746 Cal Grant Reform Act, authored by Assemblymembers Jose Medina, Kevin McCarty, and Senator Connie Leyva. Understanding that comprehensive reform is needed, the goal of this bill is to ensure Californians have access to debt-free college. Through the new Cal Grant Equity Framework, students will be better supported. The program will thus be built on targeted investments and reflect the needs of today's student population
RCCD 2022 Five-Year Capital Construction Plan Strategy & Planning
VP West shared the College's tentative two projects within RCC's submitted Five-Year Capital Construction Plan. Highlights:
RCC is allowed to submit one FPP (Final Project Proposal). In 2021-2022, RCC submitted the Cosmetology (New Construction) project.

The College is allowed to submit multiple IPP's (Initial Project Proposals). In 2021-2022, RCC submitted three projects including (in no ranked order): Advanced Technical Trades (New Construction), Fine Arts (New Construction) and Martin Luther King (Renovation)

These projects will again go through the college's strategic planning process this year in anticipation for submission to the state for the 2022-2023 fiscal year.

Because the College does not have matching funds in any of these projects, it is highly unlikely that any will be funded for 2022-2023.
PLT took action on the following items:
Child Development Center
Access to RCC's Child Development Center will be subject to the updated (February 2022) RCC Events Protocols (except for RCCD employees and students who are subject to the RCCD Covid-19 resolution).
Classified School Employees Week
VP West provided ideas for the 2022 Classified School Employees Week - May 15-21. This year's theme is "We are Classified. We bring it every day." Additional details will be shared as events and activities are finalized.
Service Awards
VP West shared preliminary planning for 2022 service awards. PLT decided that the program will once again be in person, hosted on Thursday, May 19th from 12:50 pm-1:50 pm. More than 100 individuals will be honored for their years of service to RCC.